MSL Early Grade Vocabulary Help
Malawian Sign Language (MSL) Early Grade Vocabulary Guide Outline
Website Overview: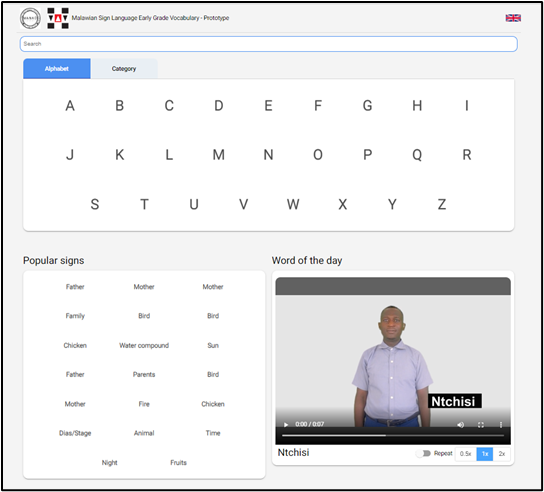 This website is a prototype developed by eKitabu with support from All Children Reading: A Grand Challenge for Development (ACR GCD) Begin With Books Prize. The purpose of the site is to support learners, teachers, and caregivers to learn Malawian Sign Language (MSL).
All of the videos use MSL and were filmed in collaboration with the Malawian Association of the Deaf (MANAD). Sign languages do not map 1:1 with written or spoken languages. For that reason, we have added.
How to use the site:
Choose your written language [directions on the flag dropdown. Note we are changing this to clickable text soon].

Try out the Sign of the Day or the Popular signs to get started.

Click "Next" or Previous to start exploring signs.

Find a sign! You can use:

Search - simply type a word into the search box. Use the language you choose. If you are using the site in English, please search in English. If you are using it in Chichewa or Tumbuka, please search in that language.

Browse the Alphabet - click on the letter in the alphabet.

Browse Category - click on a category like Family, Animals, or many others. You will be shown all of the signs available in that category. Some signs are in multiple categories, for example, "Grandfather" is in People and Family.
More about how to use the video player features as shown in the arrow
The video controls at the top of the video allow you to: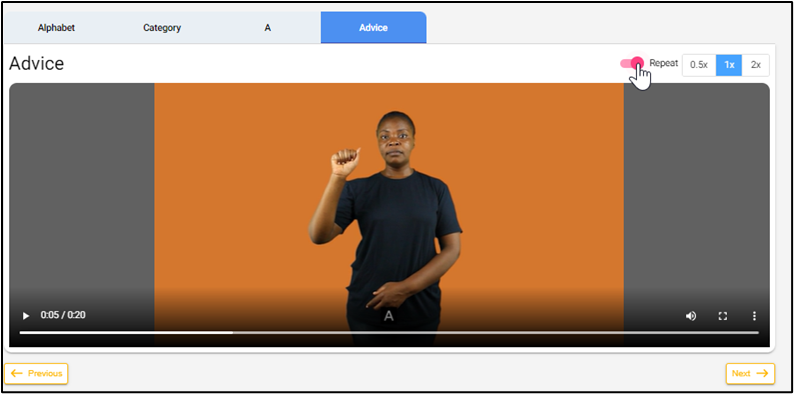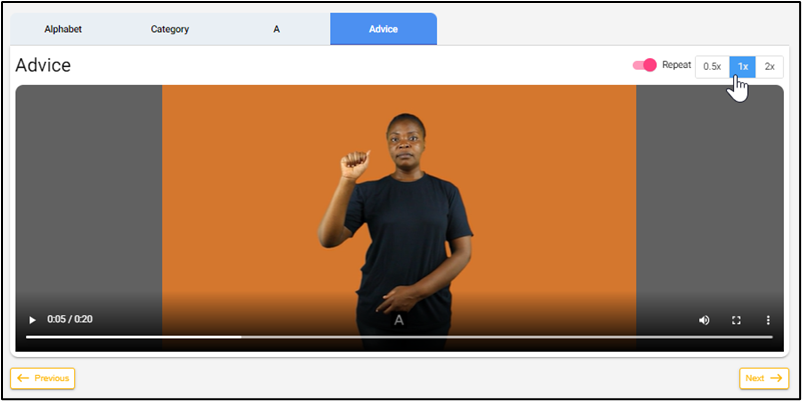 The video controls at the bottom of the video player allow you to: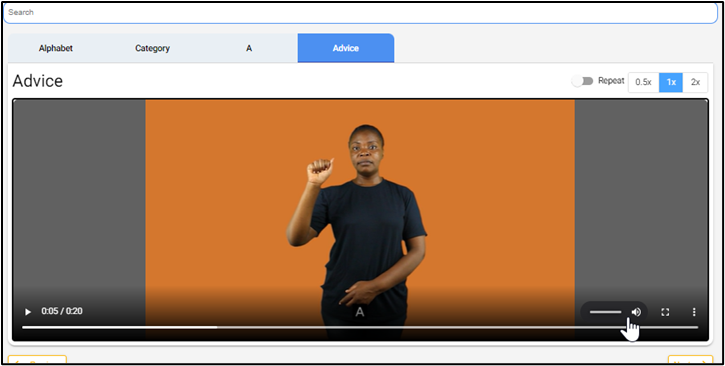 Change the volume of the sound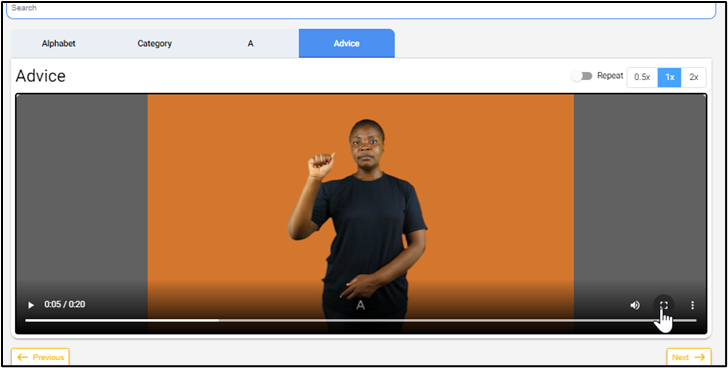 Go to full screen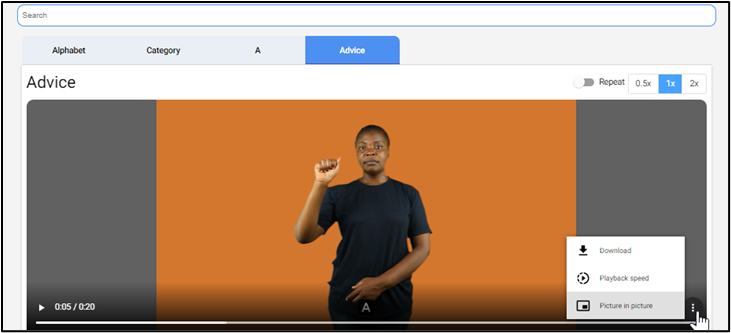 Open the menu to Download, playback speed, and use the picture in picture mode
About MSL Early Grade Vocabulary Guide
MSL Early Grade Vocabulary Guide is a collection of over 400 selected vocabulary words for the deaf and hard of hearing learners that integrate local sign language videos with early grade readers. The aim of the guide is to support language acquisition and build communication skills on a path to literacy. The words have been carefully selected with the help of colleagues from MANAD. Each word is signed in MSL, fingerspelled in the language of choice, and orally narrated.
Acknowledgment
This product is made possible through the support of the All Children Reading: A Grand Challenge for Development (ACR GCD) Founding Partners (the United States Agency for International Development [USAID], World Vision, and the Australian Government) in collaboration with the Global Book Alliance. It was developed by eKitabu, LLC and does not necessarily reflect the views of the ACR GCD Founding Partners or the Global Book Alliance.
Contact
For additional help or to send eKitabu feedback please contact support@ekitabu.com or WhatsApp: +254 708 727 037. Our postal address is Area 3, Off Mtunthama Rd. P.O. BOX 30041 Capital City, Lilongwe 3, Malawi.